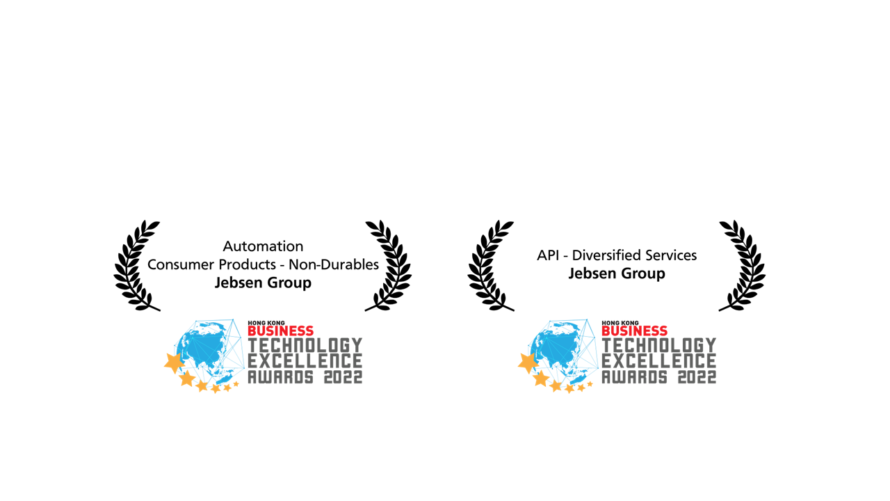 Jebsen Group recently won the 2022 Hong Kong Business Technology Excellence Award for its outstanding application of API and RPA throughout the Group's daily operations. Issued by the respected regional English-language media title, Hong Kong Business, this technology award is Jebsen Group's first since its Digital First strategy implementation.
According to data from the Group Information Technology department (GIT), the two award-winning applications have resulted in efficiency improvements in Group business lines, enabling colleagues to quickly respond to business demands and perform more value-added tasks.
"The Group's Digital First strategy supports our evolution from a ERP centric platform to a LEGO-like enabling platform for our business to evolve and thrive. In the era of Web 3.0, every business activity will involve IT technology; GIT aims to provide the Group with a competitive advantage, enabling it to become more agile and responsive to market changes," explains Mr Brian Chan, GIT Director.
Over the past year, the Group has implemented various transformational technology, including iExpense, eName Card, e-Signature, Sales force automation, and Power BI Dashboard.
"We are honoured to win this recognition from the industry, which is made possible due to our dedicated team of colleagues. Moving forwards, the Group will continue inviting all our colleagues' input as we accelerate securely into a digital-first future," says COO, Mr Alexander Spitzy.
For more details on the award-winning applications, please visit: Jebsen Group Clinches Major Wins at the Hong Kong Business Technology Excellence Awards 2022 | Hong Kong Business and HKB TECHNOLOGY EXCELLENCE AWARDS 2022 WINNER: JEBSEN GROUP