Our CEO Alfons Mensdorff was recently interviewed by Harvard Business Review China. During the interview, Alfons shared details of how Jebsen Group achieves sustainable growth in a complex and ever-changing business environment, while helping to build overseas brands in China.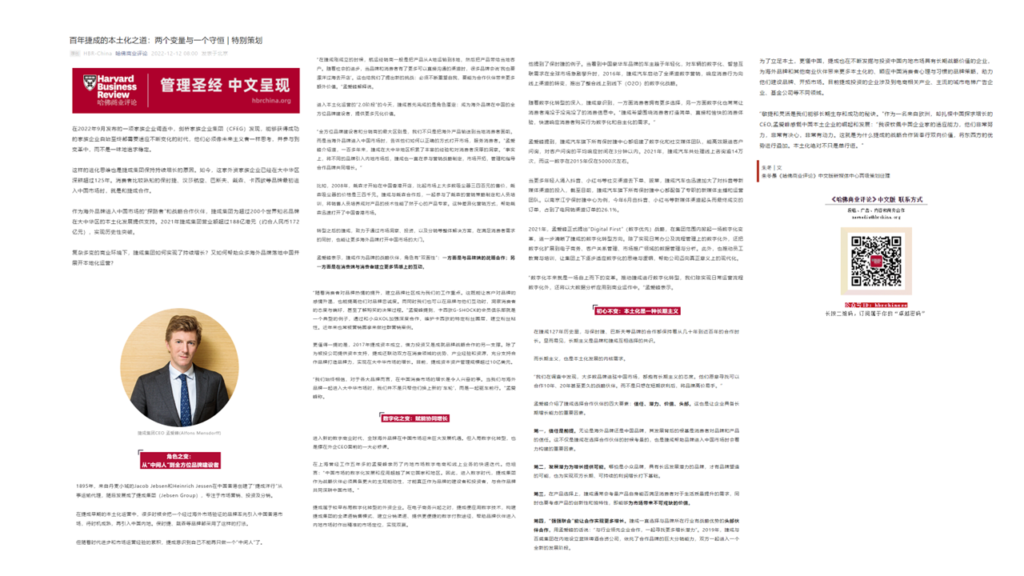 Alfons summarised Jebsen's growth experience in Greater China: while the Group changes its role with the times and embraces digital innovation, its long-term mindset remains unchanged. As a comprehensive brand-builder for overseas brands in China, Jebsen is committed to providing more diversified values in this "Localisation 2.0" period.
Alfons said, "As a comprehensive brand-builder, rather than a distributor, Jebsen does not just deliver overseas products to local consumers. Instead, we guide brands on how to enter the market and serve consumers in the right way. Jebsen has introduced many different brands to China, participating in marketing strategy planning, market development and management to coach brands to grow together with us."
In this era of digital business, brands worldwide face huge opportunities for development in the Chinese market. Alfons said frankly, "The development and application of digitalisation in China has surpassed other regions. As such, Jebsen must take greater initiatives to truly act as a brand-builder and investor, collaborating with brands to deeply cultivate the Chinese market." This philosophy is what led Alfons to announce Jebsen's "Digital First" strategy in 2021, sparking digital transformation within the Group.
Jebsen has maintained long-term relationships with many brands throughout its over 125-year history. Long-term mindset is the core of our partnership. On the other hand, "long-term" is also a key requirement of localisation, as Alfons explained, "We've found that most brands hold a long-term mindset when they enter China. Instead of selling their brands at a high price after making a short-term profit, they are willing to look for strategic partners that they can collaborate with over the course of many years."
At the same time, agility and flexibility are also the secrets behind Jebsen's long-term success. "I admire the adaptability of Chinese entrepreneurs. They work hard and are determined and motivated. That is why we pursue two-way values, combining the advantages of both the East and the West in our business," added Alfons. The interview is now available on the media's WeChat platform.
For the original coverage, please click here.