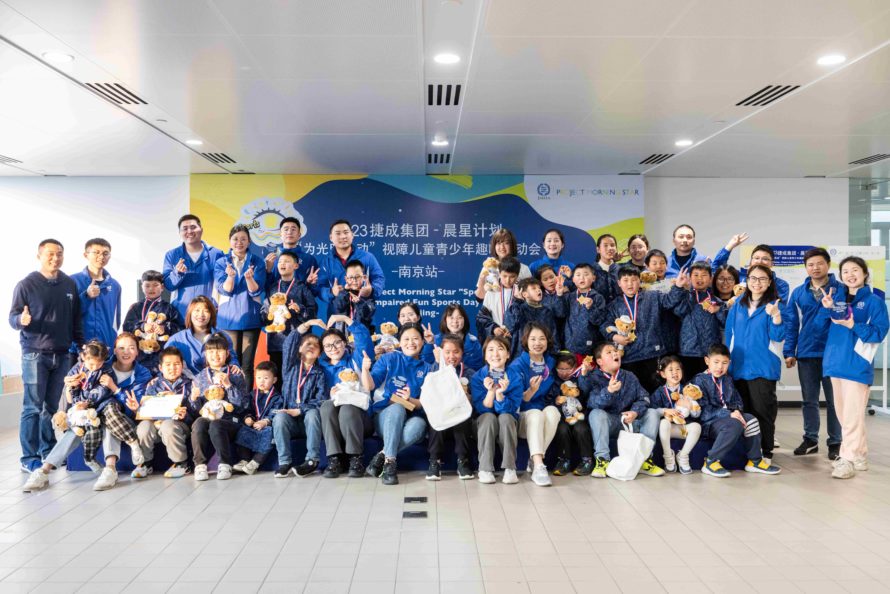 On April 1 2023, Jebsen Group held its Visually Impaired Fun Sports Day at Porsche Centre Nanjing Jiangning, in collaboration with Orbis. The event offered an exciting sports experience to visually impaired local children, while aiming to raise awareness of visual health and promote a barrier-free and inclusive city.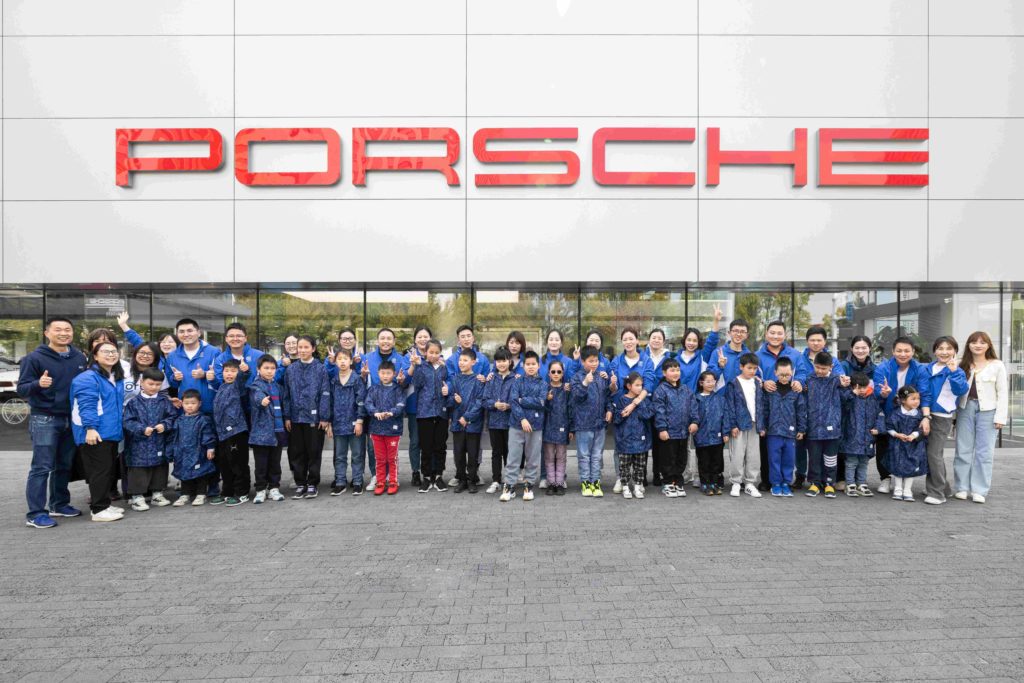 Research shows that outdoor sports can be effective in helping to prevent myopia and benefit visual health. In 2021, Jebsen Group hosted the first Visually Impaired Fun Sports Day at Project Morning Star Phase III's launch ceremony. It also launched the "Sports for Vision" Project, which highlights the importance of monitoring visual health and counteracting visual impairment through exercise.
17 Jebsen volunteers accompanied 15 visually impaired children and their families at the event, joining Porsche Centre Nanjing Jiangning's car tour to learn more about Porsche cars and the work of "car detailers". They also enjoyed sporting activities and games such as a Giant Footsteps Challenge, Snack Delivery Relay Race, Gluttonous Snake Game and Land Curling Ball Experience.
"Thanks to Jebsen Group for organising this fun event that allowed us to experience the excitement of cars! The organisers carefully explained all about the cars' design and functions, giving us the chance to learn more. Thank you to the volunteers that gave up their time to help us and ensure that we all had such a fun and educational day. I think that the day really demonstrated the power of unity."
— child with visual impairment, Xiaoqing (pseudonym)
"I am very grateful for the dedication of Orbis and the volunteers from Jebsen Group. There were volunteers ready to greet the children as soon as they entered Porsche Centre Nanjing Jiangning, and I was touched by their kindness and patience. I think our visually impaired children felt respected as equals in this tolerant and inclusive environment. Some of the children were initially reluctant to leave their parents at the beginning of the day; however, by the end, we couldn't tear them away from the volunteers! We were very moved by the dedication and kind hearts of the Jebsen volunteers."
–Mother of a child with visual impairment child, Xiaoshui (pseudonym)
"I felt so pleased to receive positive feedback from the parents of a visually impaired child. Today was very meaningful, with the children learning more about the cars' structure and our brand. I hope there will be more events like this in the future."
–Jebsen volunteer, Zoe Zhang
"I was honoured to join this meaningful event. Although I was quite apprehensive initially as I was concerned I might not be able to take good care of the children, I found them all to be smart, perceptive and easily able to negotiate the activities using their other senses. Today I learned how special these children with visual impairment really are."
–Jebsen volunteer, Lynn Chen

Thanks again to all the Jebsen volunteers for your hard work and dedication! We will be arranging more "Sports for Vision" activities in other cities soon – so stay tuned!