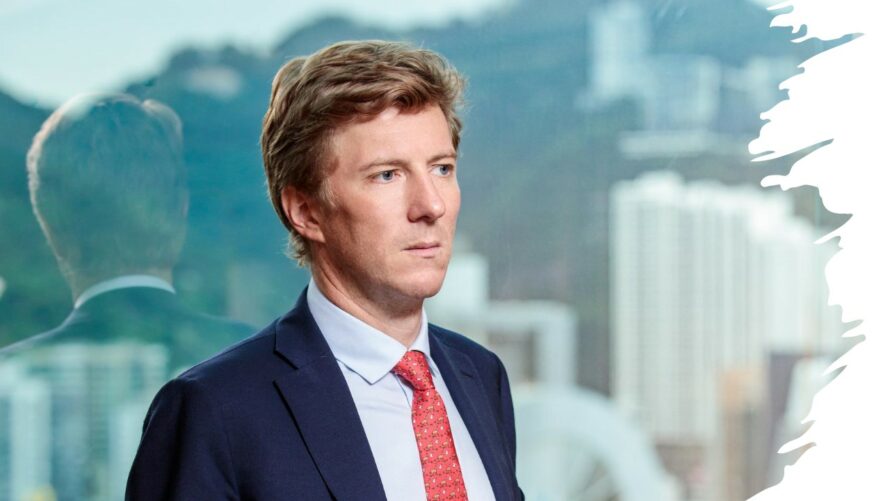 "The Greater Bay Area (GBA) is one of China's most open regional markets. It has provided us with the constant impetus to grow our business in the Greater China region," said Mr Alfons Mensdorff, CEO of Jebsen Group, in a recent interview with China News Service. Mr Mensdorff explained that more effective collaborative developments were achieved between Hong Kong and other GBA cities through mechanism coordination and connectivity of infrastructure, resulting in Jebsen Group seeing a promising future and continuing to expand its market in the area.
Mr Mensdorff studied international business administration at university. In 2010, he joined Jebsen Group's sister company, Jebsen & Jessen Group. He explains, "Back in college, I was already aware of the importance of a stable market environment and interconnected, convenient trade environments for business and career development." The Chinese mainland's booming economy and the strong recovery of Hong Kong's economy reinforced his goal to develop his personal career in Hong Kong.
Headquartered in Hong Kong, Jebsen Group was founded in 1895. In 1955, Jebsen Motors introduced the Porsche brand to Hong Kong and subsequently, the Group has responded to the changing needs of the consumer market by introducing hundreds of premium brands, such as Casio, to the region. Over the last century, the Group has evolved from a shipping business into a focused marketing, investment and distribution organisation, with four core business lines – Motors, Beverage, Consumer and Jebsen Capital.
In 1957, the Group participated in the first Canton Fair and has been a regular exhibitor ever since. As one of the first foreign-invested enterprises established under the dual framework of the WTO (World Trade Organization) and CEPA (Closer Economic Partnership Arrangement between the mainland and Hong Kong), Jebsen Group has achieved significant growth and will continue to expand its landscape in the mainland with Hong Kong as its home base. 
"The mainland's deepening reform, opening-up policy, continuously optimised business and investment environment, sizeable consumer market and innovation-driven industrial structure have made it a highly sought-after market for foreign investors," Mr Mensdorff said, adding that the Chinese market is ahead of other regions in terms of digital development and application. Jebsen Group is also pushing ahead with omnichannel retailing, breaking through the boundaries of consumer communications and cultivating a wider market through digital means.
Meanwhile, the GBA is in a leading position for both industrial development and population density. Its sound business environment and potential for covering the entire Chinese market offers further appeal for foreign investors.
According to Mr Mensdorff, Hong Kong and other GBA cities have their own characteristics, bringing mutual benefits. "Hong Kong's consumer market is international and open, with high international traffic and a high level of international brand consumption, while other GBA cities have also shown great potential." said Mr Mensdorff. Hong Kong's economic development is becoming deeply integrated with the overall development of the GBA, with complementary, synergistic results in the consumer market and digitalisation. The exploration of digital technology in multiple application scenarios is accelerating the integrated development of the GBA in real time.
The Group will continue to actively support the GBA, as Mr Mensdorff explains, "For 127 years, Jebsen Group has accumulated deep experience and consumer insights in the Hong Kong and Macau markets, as well as the Mainland market. We will continue to embrace innovation. While achieving our own business development, we will contribute to the synergistic development of the Greater Bay Area's economy."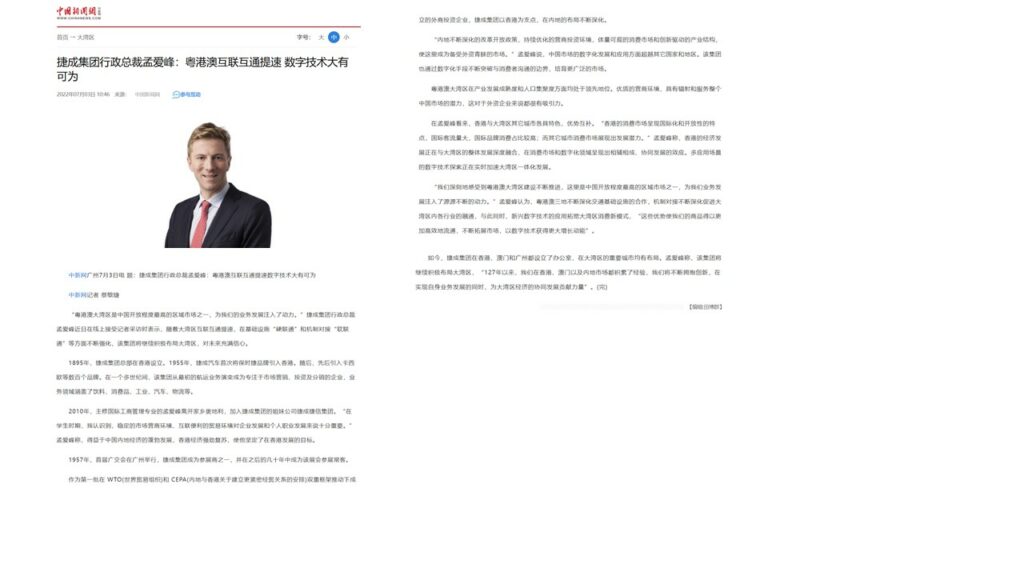 For the full interview please click here.