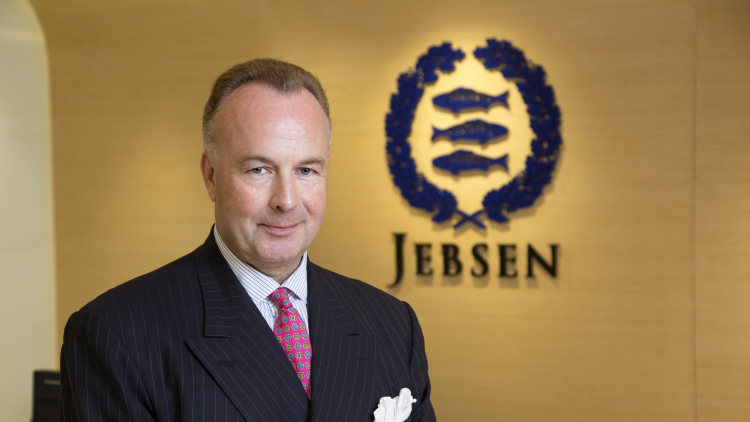 On November 22, 2021, Group Chairman Mr Hans Michael Jebsen was conferred the title of Guangzhou Honorary Citizen at the 2021 Awarding Ceremony of Guangzhou Honorary Citizens, organised by the city of Guangzhou.
Mr Hans Michael Jebsen first joined Jebsen Group in Hong Kong in 1981 and has been Group Chairman since 2000. Since taking office, Mr Jebsen has attached great importance to the Group's development in Guangzhou, increasing the Group's investment in the city throughout the years; as of the end of 2020, Jebsen Group has accumulated investments totalling over RMB 280 million in Guangzhou. Over the past three years, Jebsen Group has consistently achieved exemplary performance in Guangzhou, even during the COVID-19 pandemic, and contributed over RMB 400 million in tax revenue.
Under Mr Jebsen's guiding hand, the Group has made proactive contributions to the Chinese mainland and Guangzhou in particular, in areas such as education, scientific research and development, healthcare, disaster relief, poverty alleviation and cultural exchange. Many of the Group's outstanding efforts have been recognised by the Guangzhou Municipal Party Committee and Municipal Government, with Jebsen receiving a Headquarters Enterprise of Guangzhou award in 2018 and 2019, helping to enhance the reach of Guangzhou's headquarters economy.
During the awards ceremony, Mr Wen Guohui, the Mayor of Guangzhou Municipality, expressed his congratulations to the 17th group of honorary citizens on behalf of Guangzhou's Municipal Party Committee and Municipal Government. He also expressed gratitude for the outstanding contributions made by previous honorary citizens to Guangzhou's economic and social development,"With the joint participation of honorary citizens, Guangzhou's economic strength has reached a new level. The aggregation of innovative resources has been accelerated, the business environment is first-class, and the city is liveable, workable and pleasant to visit. We hope that the honorary citizens will continue to uphold the spirit of ownership, play a leading role in their respective fields and serve as a bridge to connect the world, engaging more and more entrepreneurs and talents from all walks of life at home and abroad to get to know Guangzhou, come to Guangzhou and embrace Guangzhou."
Mr Jebsen extended his gratitude to the Government of Guangzhou Municipality for the honour, stating, "In the past decades, Guangzhou has made great progress with a combination of a visionary government, talented and hard-working people, first-class academics and an excellent business environment. We consider ourselves extremely fortunate to play a small part in this historic moment, bringing brands, products and innovation to Guangzhou. Being bestowed this honorary citizen of Guangzhou is a great honour for me, also an incentive both for me and Jebsen Group as a whole to continue on the path of committing ourselves to this amazing city."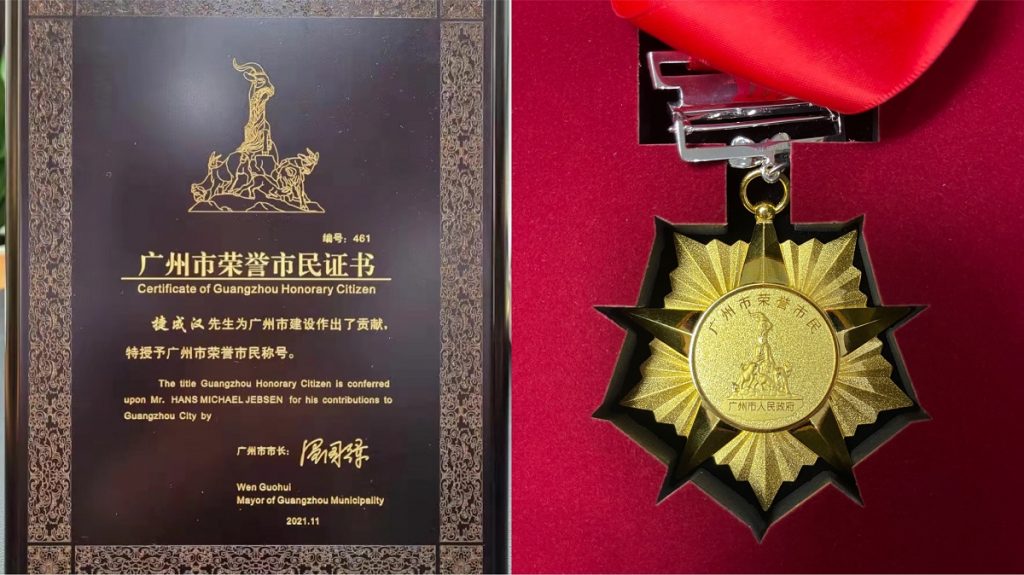 The Guangzhou Honorary Citizenship award began in 1986 to encourage and recognise those from Hong Kong, Macau and Taiwan, overseas Chinese citizens and other foreign nationals who have made significant contributions to the city's economic development, social welfare, and foreign exchange and collaboration. So far, 462 individuals in a total of 17 batches have been awarded the title of "Guangzhou Honorary Citizen", including prominent figures such as Edmund Ho Hau-wah, Henry Fok Ying Tung, Anna Chan Chennault, and Shing-tung Yau, with this year seeing 13 brand new honorary citizens awarded this prestigious title.