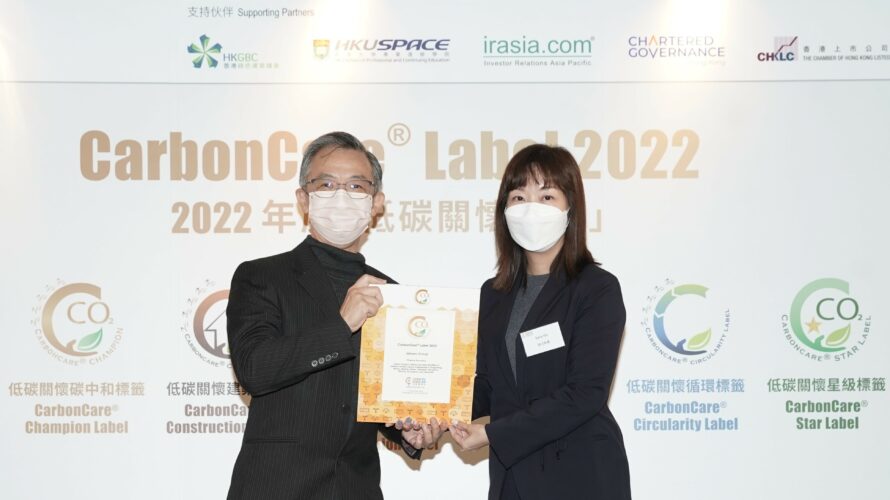 Jebsen Group was recently awarded the CarbonCare® Champion Label and CarbonCare® Star Label by the non-profit organisation, CarbonCare InnoLab (CCIL). Jebsen Group has now received the CarbonCare® Champion Label for ten consecutive years and the CarbonCare® Star Label for five consecutive years – highlighting Jebsen's achievements of its carbon neutrality goals for the tenth consecutive year.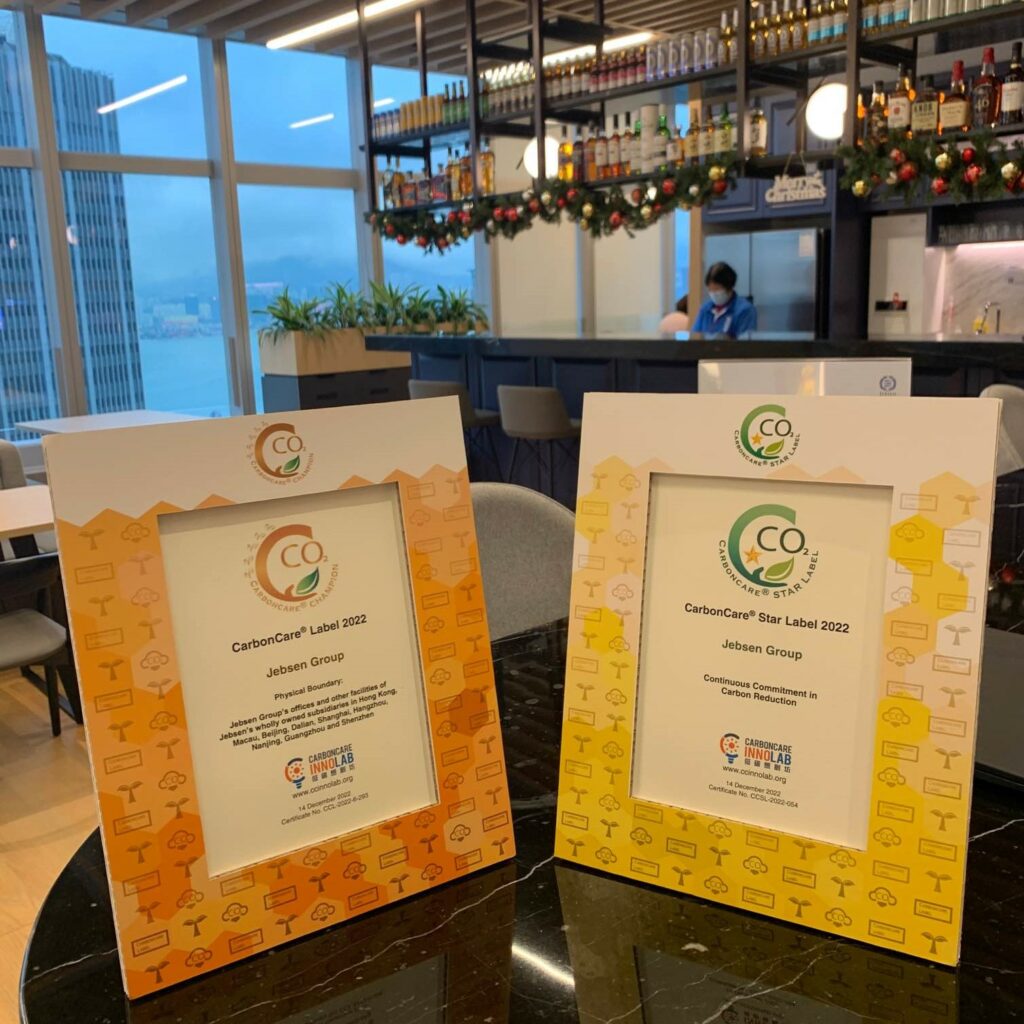 Jebsen established a dedicated Carbon Audit Team in 2010 to prepare the Group's annual carbon Audit Report. This is reviewed by Carbon Care Asia, a third-party organisation, to verify its data accuracy and reliability. According to the verified report, Jebsen's total carbon emissions in Hong Kong, Macau and the Chinese mainland in 2021 were 18,308 tonnes of CO2e, including direct and indirect emissions. Carbon intensity decreased by 2.5% to 890.90 tonnes of CO2e per billion HK$ compared to 2020's figures of 913.68 tonnes of CO2e per billion HK$.
The Group subsequently achieved its carbon neutrality target by investing in environmental projects. Through collaboration with South Pole Group, an international carbon finance organisation, we invested in the Nakhon Biogas wastewater treatment in Thailand to offset carbon emissions from our business operations.
Jebsen's long-term commitment to climate change and low-carbon development is one of our key strengths. In 2022, we formed a new Carbon Audit Team to expand our carbon management scope from business operations to our entire value chain. At the same time, with the implementation of our "Digital First" concept, we will collect and analyse carbon data through the HiESG system. Furthermore, we will continue to develop new Group targets and measures to address climate change and start our journey towards net-zero targets, based on these comprehensive carbon audit results.
The CarbonCare® Label is a unique scheme created by CCIL, a non-profit organisation dedicated to the nurture and development of innovative solutions, policies and practices in response to climate change and sustainability challenges. The gold CarbonCare® Champion Label indicates the achievement of carbon neutrality through emissions reduction followed by total offsets. The CarbonCare® Star Label is a special recognition for businesses who have attained the CarbonCare® Label or CarbonCare® Champion Label continuously for three years or more. Since its launch in late 2011, over 450 labels have been awarded to organisations across a wide range of sectors.