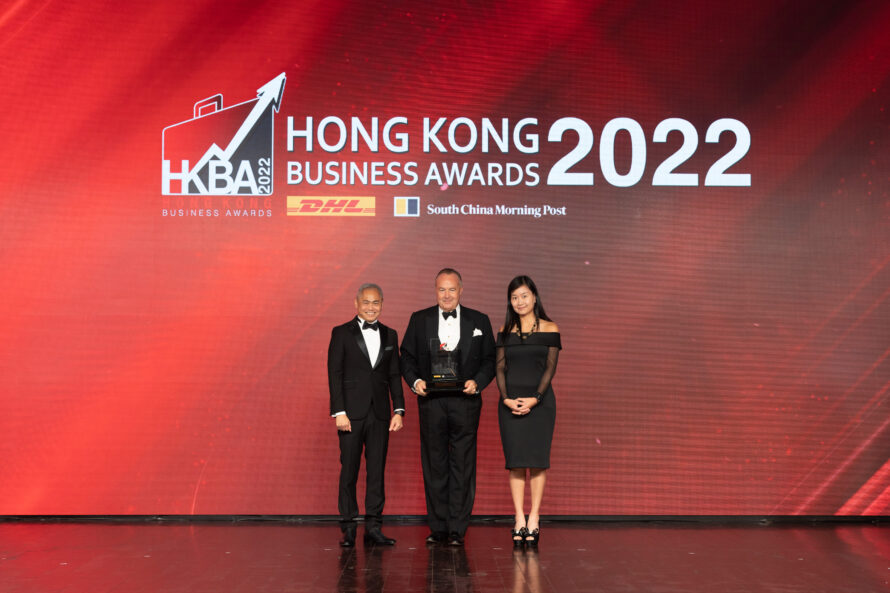 The dedication, hard work and collective efforts of our whole Group have not gone unnoticed – and thanks to everyone's contributions, the Group won many industry awards and societal accolades throughout 2022.
With our extraordinary achievements in financial success, corporate social responsibility, people-oriented human resources management and business reputation in 2021, we were awarded the Enterprise Award at 2022's DHL/SCMP Hong Kong Business Awards. Our CEO Alfons Mensdorff's achievements and leadership have powered the century-old Jebsen into becoming a dynamic conglomerate, winning him the Harvard Business Review China New Growth – Pioneering Figure of 2022 award in the process.
This recognition also points to our contributions to the community, underscored by 15-plus years of being recognised as a "Caring Company" in Hong Kong. Jebsen Motors achieved full carbon neutrality in 2020 and 2021, and were also awarded the LEED Platinum certification for Porsche Centre Haining. This, in turn helped the Group win the Environmental Initiatives Award at 2022's SEAL Business Sustainability Awards – an international award that honours  sustainability, environmental achievement and leadership. Many famous international brands including Microsoft, Apple, JD.COM, Nike and IKEA have previously received this award, placing Jebsen Group in excellent company.
Our business lines have also recorded impressive results within their respective industries. Motors and J SELECT continued their success this year at the Porsche China and HKRMA awards respectively, while Blue Girl Beer won several accolades for their brand refresh and 2022 summer campaign.
Here is the full list of awards received by Jebsen Group as of December 15, 2022:
Overall Business Success
2022 DHL/SCMP Hong Kong Business Awards – Enterprise Award
Harvard Business Review China New Growth – Pioneering Figure of 2022 (Alfons Mensdorff- -Pouilly)
Motors
Leadership in Energy and Environmental Design – Platinum Certification (Porsche Centre Haining)
2021 Dealer of The Year (Porsche Centre Hangzhou Westlake)
2021 Porsche Approved Dealer Group of the Year
2021 Porsche Approved Dealer of the Year
Beverage
HK Most Outstanding Services (HKMOS) 2022 – Best in Class Beer Brand of the Year (Blue Girl)
Markies Awards Hong Kong 2022 – Best Use of SEM Strategy – Bronze (Blue Girl)
Wellcome Meet the Heroes Top Brands Awards – Top 10 Brands (Blue Girl)
Marketing Excellence Awards 2022 – Excellence in Loyalty Marketing – Silver (Blue Girl)
Consumer
HKRMA Quality Service Leader – Seasonal Award (J SELECT)
2022 HKRMA Top 10 Quality E-Shop Award – Bronze (J SELECT)
2022 HKRMA Top 10 O2O Retail Brand Award of the Year (J SELECT)
Brand Strategy
Transform Awards Asia – Best Brand Evolution (Corporate) – Silver
Digital Impact Awards Asia – Best Digital Rebrand-Silver (Corporate Website)
Digital Impact Awards Asia – Best Corporate Website – Silver (Corporate Website)
Technology
2022 Hong Kong Business Technology Excellence Award (API Applications)
2022 Hong Kong Business Technology Excellence Award (Automation-RPA Applications)
2022 CIO 100 Award (Mr Brian Chan)
Environmental
Green Sustainable Development Contribution Award 2022
Case Study Selected by Chinese Enterprises Low-carbon Transition and High-Quality Development Report 2022
Case Study Selected by Shanghai Foreign Invested Enterprises Green & Low-Carbon Development Case Report
2022 CarbonCare® Champion Label
2022 CarbonCare® Star Label
2022 SEAL Business Sustainability Awards – Environmental Initiatives Award
Social
2021/22 15 Years Plus HK Caring Company
China Philanthropy Festival 2022 – Social Responsibility Pioneer Award
2022 China Philanthropy Festival 2022 – Project of the Year Award (Project Morning Star)