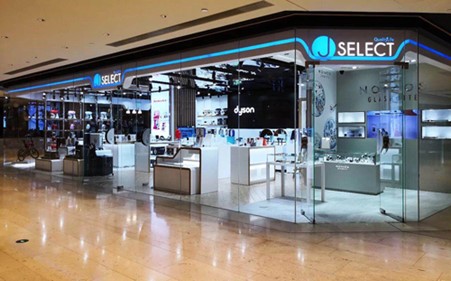 Jebsen Group (Jebsen), a leading brand builder and a focused marketing, distribution, and investment organization in Greater China, announced today the opening of the first-ever J SELECT store in one of Beijing's busiest commercial districts – Wang Fu Central.
In keeping with its brand values, the J SELECT Beijing Wang Fu Central store will bring hundreds of carefully selected items and stylish, quality products from all over the world to Mainland Chinese consumers. This newly opened J SELECT store is stylish and spacious, with minimalist white decor, allowing customers to enjoy a unique shopping experience in a comfortable environment.
As a prominent retail brand under Jebsen Consumer, J SELECT gathers together a great variety of internationally-renowned brands, offering products ranging from smart appliances, kitchen supplies, trendy gadgets, audio/visual products, beauty electronics, to stylish watches and more. All products, which include award-winning products worldwide, have gone through a rigorous selection process with an emphasis on quality to enrich the lives of urban residents.
With five physical stores located across Hong Kong, encompassing Hong Kong Island, Kowloon, and the New Territories, J SELECT has continued to grow at a steady pace. The product mix on offer at each store is tailored to its unique location in Hong Kong. In addition to the offline stores, J SELECT has operated a Hong Kong-based online shop (www.jselect.com) since December 2013 and a Mainland China-based T-mall shop (www.jebsen.tmall.com) since 2014. Over the past few years, J SELECT has launched a number of creative marketing campaigns, accumulated a loyal multi-channel client base, with a double-digit retention rate. Reflecting the success of its achievements, J SELECT T-mall store now ranks amongst the top 30 online stores in the consumer electronics brand category in China.
Jebsen Consumer's strategy is to integrate online and offline purchasing experiences. Offering customers reliability and convenience along with a variety of quality choices to strengthen customer loyalty in the long term.